Lucie Tiger - EPK
The "new darling of country music" (The Music), Lucie Tiger has become the "reigning Queen of modern country rock" (Happy Magazine). Referred to as "the embodiment of a Southern-infused country rock singer-songwriter" (CountryTown), Lucie Tiger is an accomplished  performer who "puts the fun in country rock" (Scenestr).  
The last two years have been packed full of achievements and firsts for Lucie Tiger. She was the only independent Australian artist to successfully chart on the MusicRow Country Breakout Chart with all five singles she sent to USA radio in that time - 'Found My Home', 'Midnight Goodbye', 'Right Next To You', 'Burn It Down' and 'Home Is Where The Heart Is'. Never one to shy away from making her mark in multiple countries, Lucie had four singles chart on the CountryTown Australian Radio Top 50 chart in the same time period. To cap off a remarkable two years of releases, Lucie's album Alabama Highway debuted at #14 on the ARIA Country Albums chart (Australia's equivalent to Billboard) and #10 on the AIR (Australian Independent Record Label) Albums Chart, plus The Memphis Tapes debuted at #7 on the Australian Independent Record (AIR) Albums Chart.  
A respected songwriter, Lucie Tiger was the only Australian artist selected as a Top 30 Writers On The Rise at the Muscle Shoals Songwriters Festival (USA) in 2022, as well as winning Best Country Blues Song of the Year 2021 at the Tamworth Songwriters Festival for her song 'Gasoline'. Lucie's first-ever holiday single 'Christmas In The South' was listed as one of the 10 Best Australian Christmas Songs in 2022 along with songs by Sia, Paul Kelly, and Amy Shark, and two of her songs reached the Top 10 of the Australian Songwriter Awards 2022. She's been industry-nominated twice for the Rudy Brandsma Award for Songwriting Excellence by the Australian Songwriting Association, and she's been featured in Americana Rhythm magazine (USA), Today's Country magazine, The Music Network, Rhythms Magazine (AUS), CMT, and the television program Songwriters Across Australia. 
Lucie Tiger on the Charts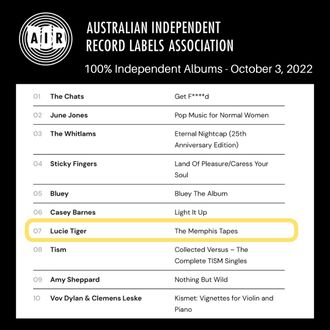 Lucie's Social Media Sites